Padding
At Senneh Knot, we recommend padding under all rugs. Having a pad under your rug is extremely important. When a rug is placed on a hard surface, a good pad is an important safety issue. Small rugs can be particularly dangerous if pad is not used. Padding should be placed under all area rugs, because it helps to protect them from wear, and prevents them from moving and wrinkling. Your rug will not shift on the floor, it will be easier to vacuum, and plays a large factor in the life of your rug. We carry two high quality grades of padding.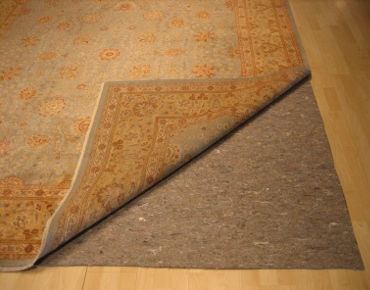 Non Skid Plus: This pad is made of all natural rubber material; it will keep your rug in place while protecting the knots on the back of the rug.
Premium Pad: This pad has a natural non skid rubber backing on a felt like synthetic material for extra cushion, in addition to protecting the knots, it is a thicker pad which adds a nice soft feeling.